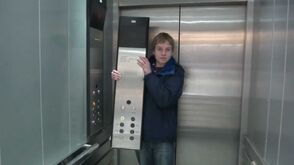 Angus McDougall
(also known as
Anjasomc
) is a Scottish elevator photographer based in the south of England.
History
Anjasomc has been interested in a wide variety of technology (such as trains, buses and most prominently elevators) for as long as he can remember. He was inspired to begin filming elevators after finding existing YouTube videos by various users. These include mrmattandmrchay[1], harrihealey02 (now Ratedparental[2]), benobve and dieselducy.
In May 2011 Anjasomc uploaded his first elevator video, recorded at the Belfry Shopping Centre in Redhill, Surrey.
Cameras
He used his iPod nano to record his first video, and just under 300 other elevators, including those in Gatwick Airport, Gatwick and The Millenium Bridge, London.
In September 2011, he received an iPod touch for his birthday. Because of the 720p HD capability and improved microphone quality, Anjasomc decided to use this in favour of the nano (although he still carried it with him incase of low battery on the iPod touch). This camera was especially useful because of its capability to directly upload videos to YouTube.
Today, Anjasomc uses a Sony DSC-TX10 camera to record his videos in full 1080p HD, with stereo sound. The camera is small, making it ideal for small confined spaces - such as in elevators. Anjasomc has recorded hundreds of new elevators with this camera, and has re-recorded some elevators filmed with previous cameras.
Editing
Angus began editing his videos using Sony Vegas, although now has upgraded to the Adobe Suite. This is mainly because of his involvements outside of the Anjasomc channel.
Web Design
Anjasomc has his own website and has coded various apps for smartphones, all dedicated to his love of elevators. These are all available on his website.
App Development
The AnjasomcApp[3] was Anjasomc's first app, and is still available at his website. It among many featured, the app allows users to access his, and other users videos (people can request to have their own YouTube channel featured) on the go. There is also a Twitter feed, a access to his own blog and to his elevator photos.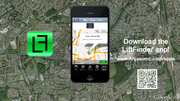 The LiftFinder[4] app was his second development project. It included searchable lists of elevator manufacturers and locations, allowing enthusiasts or those unable to take the stairs to find elevators near them. This has now been replaced with a newer version, allowing users to see lifts plotted on a map in their area. The new app can also display a list of the elevators closest to the user (with distances in kilometres) so they can find elevators while away from their computer
The LiftFinder Database[5] app, or "LF Data" app allows people to use their smartphone to add elevators to the LiftFinder Database. Users fill out information about the elevator such as the manufacturer, location (or use the map to do this), and give the elevator a description. The user can also provide a photo or short video taken live (or from their photo album) and an overall rating from 0-10 of the elevator. This app is still in development, but a public beta is available to download.
Trivia
He usually begins his video with his yellow vintage "Matchbox Diesel Shunter" toy as an opening signature.
Although the video title is in American English, in the video he still talk in British English.[6]
References
External links