A
compact camera
(also called
point-and-shoot camera
) is a still camera designed primarily for simple operation.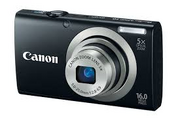 Most of them have focus-free lenses or autofocus for focusing, automatic systems for setting the exposure options, and have flash units built in. These cameras offer more features and have better quality than mobile phone cameras, one main difference usually being a zoom lens compared to digital zoom. Nearly all compact cameras use SD cards, which allow for easy expansion and data transfer; a USB cable can also be used to transfer content.
There are some elevator filmers in the elevator community that use compact cameras.
Benefits
Unlike mobile phone cameras, compact cameras have optical zoom (instead of the digital zoom used by mobile phones). This works by physically zooming the lens in or out. These often have better results than digital zoom. This is useful for shaft views and for other applications.
Compact cameras, in the past, have better image quality (and most still do, although the actual advantage is often little, especially with lower-cost cameras.
​Detriments
When using a digital camera, it is more obvious when an elevator enthusiast is taking a picture or shooting a video. This may lead to suspicion from security staff.
Notable digital cameras used in the elevator community
Canon
Olympus
Sony
Nikon
Other cameras
Fujifilm FinePix XP50 (used by Ttngidoc)
Fujifilm Z5 (used by mrmattandmrchay)
Panasonic Lumix DMC-FH8 (used by NingSama1vs100)
This article is a stub. You can help it by expanding it.