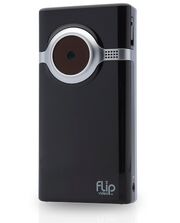 FLIP is a series of pocket camcorders that was made by Cisco until 2011. In the elevator community these cameras are common by North American elevator filmers.
Models
The FLIP series has 3 models; UltraHD, MinoHD and SlideHD. These cameras records at 720p or lower.
Criticism
Some elevator filmers don't like these cameras because the cameras are sometimes not very stable (sometimes pointing down to the floor) which can ruin an elevator video, and are unable to take still photos. These cameras were also criticized for having a bad microphone, lack of a memory card slot, no optical zoom, and lack of 1080p video capability. Some consider the FLIP camera as poor quality.
Elevator filmers that used these cameras
Airtrainlover
elevatorsonly
NW Indiana Elevators
upanddownadventures
Trivia
FLIP was at one time one of the most common cameras in the elevator community.
See also
External links