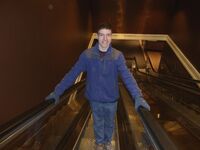 Mr. S, (born March 13th, 1996; also known by his real name Sean), the creator of Elevation Domination, is an elevator photographer and enthusiast based south of Boston, Massachusetts. Although he opened his account in May 2014, some of his videos date back as far as 2009, when he first began filming.
Backstory
Mr. S has had a strong interest in elevators all his life. Inspired by DieselDucy, Mr. S filmed his first elevator on August 24th, 2009, a scenic MontgomeryKONE hydraulic elevator at the South Shore Plaza in Braintree, MA. His first upload, however, was the Antique OTIS Traction Elevators in the Rush Rhees Library at the University of Rochester on May 10, 2014.
Cameras Used
Canon Powershot SD600 (August 24, 2009 to April 2011)
JVC GR-D850U (Throughout 2010)
Panasonic DMC ZS3 (April 2013 to present)
Sony Handycam HDR-CX380 (April 2014 to present)
Trivia
Though based primarly in the South Shore of Massachusetts, he has also filmed in Rochester, NY; Chicago, IL; Cleveland, OH; and Washington, DC, just to name a few.
He often times begins his videos by showing his wristwatch and saying and quoting, "Alright, here's your date and time..."
His distinctive sense of humor is shown in many of his videos.
In addition to elevators, he is also interested in mass transit systems and anything Apple®.
Gallery
External links