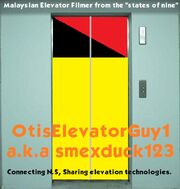 smexduck123 (also known as OtisElevatorGuy1) is an elevator filmer from Malaysia. He is usually known to just OEG1, Otis, and smexduck123.
History
smexduck123 liked elevator since he was like really young, after a mall has opened with Fujitec elevators. He opened his YouTube account right after he got a new Windows 7 computer. His very first video is not an elevator, but about himself exploring the whole Windows 7 UI, but it has since remove to put new stuffs.
He recorded his very first elevator ages ago, but the camera has since sold he can't find the video anymore. His first successful elevator video is a KONE MonoSpace at Dewan Seri Endon in Putrajaya.
Cameras history
Lenovo A806 (13 MP rear, 5 MP front)
iPhone 3GS (3 MP) (July 2013 - November 2014)
Sony Cybershot DSC-WX30 (16.2 MP) (May 2012 - present)
iPad 2 (1 MP, the worst) (November 2011 - May 2012)
Trivia
He's own a AVCHD camera which is manufactured by Sony.
Sometimes he film street views and gadgets.
He's usually film elevators when he goes overseas.
He is the first South-East Asian elevator filmer to record the Burj Khalifa elevator.
He never talks in all of the elevator videos. Even he talks, but he cut the voice off itself from the video.
Due to privacy reasons, he rarely goes and film elevators with reflective surface/mirrors. Even he goes into the elevator, he'll cut the scene off.
Gallery
External links