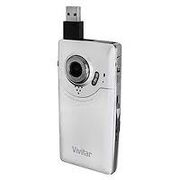 Vivitar DVR892 HD Digital Pocket Camcorder is a pocket size digital camcorder with a USB connector.
Description
Vivitar DVR892 a is compact and lightweight pocket camcorder that can record in HD. It has a 4x zoom feature and a flip-out USB port, so that the user can attach to a PC or laptop without the need to carry round an extra lead.
Specs
It can record in HD 720p and has a video quality of 5 megapixel.
It has a 4x digital zoom, Flip USB, Li-Ion battery, and 2" screen.
It has an SD Card with a maximum capacity of 8 GB.
Dimensions: 11 x 6 x 2 cm ; 181 g
Weight: 2.7 Kg
It has built-in light.
Elevator filmers that use this device
See also
External links